DEVOTION MAKES YISHI'S DESTINATION NEVER FINAL

The second part of the Yishi trilogy by Eastern Promise Audio marked its burial, but where to go when something is buried and done with? The final part of the compilation series tells is nothing ever is really done. And although this third part concludes the Yishi series, from EPA's point of view devotion is only the beginning of a new dawn. This is marked by four new artists displaying their breathtaking skills on the Eastern Promise label to bring this compilation to a relentless ending.

Artists QR or Quasar, Kindred Spirit, Fox, and Drum Cypha are four artists that have been storming the drum 'n bass grounds in recent years, and can tell us no like other the importance of keeping a true sound alive by being devoted to crafting its art continually and without losing its true spirit. They tell us so through the sound that is Eastern Promise; take darkness with light, having no distinction between beginnings and endings, and never lose sight to what truly shines.
Devotion opens with pioneer QR and a track that is this kind of finesse in its purest form; a simple but steady jungle break just grooves without any trickery, until slowly a Rhodes tune warm like the sun seeps in to warm your skin. A deep bassline soft as a blanket truly opens up the process of devotion in a relaxing and meditative way, making this tune one of the most light tunes EPA ever had the chance to release. Still, listen to this beautiful jazzed up roller and understand it fits right in with the other Yishi material.
Eventually though, this warm up of meditation has to evolve in a more raw form of devotion through the sounds of Greek-based collective Kindred Spirit (featuring Skru), which takes the warming sound of the first tune in the form of oozing oldschool pads while going for a hard hitting jungle grind with delightful jazz flutes and dub sirens to pace the vibes up a bit. Taking us for a while on a deep jungle trip to what is one of the finest bridges we heard for a while, Kindred Spirit easily takes us back to its earlier theme whilst juggling wild styles with extreme ease and control.
Producer Fox then takes us on a much darker path, paying devotion to Yishi by showing its dark side through first taking us through shrieking mentasms and deep bass stabs in a ravey sauce. A deep amen mashup then land you in a wild dance of jungle breaks, while in the background a bright light of pads keeps shining through the darkness, paying a perfect homage to the track's own title. It goes without saying that the track is a logical continuation of this part of Yishi with a dark and hypnotizing roller signaling the series' ending.
And what can an ending for Yishi hold anyway? Drum 'n bass pioneer Drum Cypha provided us with the one and only answer through Kill List, which won't do nothing but makes your hair stand on end. The bright light of devotion is still present in the intro, leaving at first little clue where the already quite raw breaks are first taking you. And when it comes, the drop will make you feel like being smacked in a complete void, where industrial percussion and hard hitting break are intertwined with bass drones reminding one that between all the light and goodness of the start of this EP another world is to be held in regard, which without Yishi can never be complete.
EPA15 Yishi : Devotion
Tracks:
1 QR – Rising Sun
2 Kindred Spirit – Holy Amen Love
3 Fox – End Of The Tunnel
4 Drum Cypha – Kill List

Release Date: February 2016 (available later on Juno and Digital-Tunes)
Format: wave, flac, alac, aac, ogg, mp3 and more
Artwork: R. Peperkamp
Mastering: T. Van Zeytveld
THE SECOND RITE OF YISHI: BURIAL

The trilogy of mystery continues as Eastern Promise Audio's first compilation series enters its second chapter. The second ritual of Yishi follows the former procession which has come to a halt and trusts Yishi to the ground. For this process some known EPA names have signed up to accompany, such as Phuture-T, the Dam Nation crew, Kodama, and newcomer to the label Scale.

As to some a burial can be a sad thing and acknowledging life that once was has come to an end, EPA sees things different in as all things that end must always give way to new beginnings. In this context, it is a celebration and acceptance of the infinite which is both showing its force, yet is too far beyond human understanding to ever reach us fully. It is this contradiction which both devours and enlightens that Burial is trying to achieve in the form of soundscapes.
EPA's in-house artist Phuture-T opens up on these aural depictions with 'Stand Firm', a title which the track does nothing but live up too. Indeed this is a the foretelling of something wicked that is coming, when mysterious pads and horns bring forth vibes of mysterious serenity, while rumbling low filtered breaks foretell a peace which is about to burst. It is when the peaceful sounds stop you realize you've been thrown in a world of mayhem and eeriness, where T's skills morph his amens to such an extent it will make even the most hardcore junglists wince.
The Dam Nation crew takes over next with a track which both is reminiscent of jungle techno vibes and industrial sounds, but at heart being a straight to the floor, no bullshit dancefloor masher.
With one melodic central theme morphing in every direction, the whispers of ghosts and cries of wonder are both heard, while drums of an ominous size pound steady blood pumping jungle breaks under a deep rolling bassline. As a stepper for the floor, 'Temperature' demonstrates the cold of the earth itself.
New label member Scale slightly continues the pace of Dam Nation as his piece 'Motherboard' is a hard hitting dancefloor stepper with all its ingredients right at your disposal; creeping mentasms, screaming drones, low filtered bass stabs which hit like sledgehammers, and raw pounding breaks which are nothing but reminiscent of the turn of the century hardstep sound being reborn. As Burial brings ends and beginnings together, 'Motherboard' does exactly this.
The burial of Yishi closes with a true piece in the spirit of the Eastern Promise Audio franchise, by Kodama (as embodied by Acid_Lab), bringing a hard hitting remix of Akinsa's track 'Constant'. Oriental percussion and mysterious strings set the spiritual vibe once again, but soon Kodama keeps on continuing the stepping sound of the EP with hard hitting drums and larger than life bass stabs in an oldschool fashion. Once again spirits are crying like the wind as morphing leads do to accompany them. As such, Yishi's burial ends in style.
Yishi will come to a close in the not too far future in a way that, for now, we can only say is going to be relentless but just. Soon.
EPA14 Yishi : Burial
Tracks:
1 Phuture-T – Stand Firm
2 Dam Nation – Temperature
3 Scale – Motherboard
4 Akinsa – Constant (Kodama Remix)

Release Date: December 2015 (available later on Juno and Digital-Tunes)
Format: wave, flac, alac, aac, ogg, mp3 and more
Written & Produced by: T. van Zeytveld, H. Terpstra, K. Ekman, P. Krause, D. Schwerdel
Artwork: R. Peperkamp
Mastering: T. Van Zeytveld
EASTERN PROMISE AUDIO PRESENTS YISHI: TRILOGY OF MYSTERY

The thirteenth release of Eastern Promise Audio is much too comprehensive to be associated with its unlucky catalogue number, a confidence which is further accelerated by releasing it on Friday the 13th (really). Instead, it is a trilogy which first part shows both old and new artists display amazing drum 'n bass artistry under EPA's trademark sound. For its first part, new heads Hidden Element, Zebedee, and Paluca signed up, plus label's renegade Double O.

So what is Yishi? Its title is shrouded in mystery, but all that can be said for now is that it is the label's first series showcasing a whole new batch of newly discovered artists to be associated with the label, plus old artists producing material to completely fit these particular series. This first part, an EP called Procession, is therefore the first ritual in the trilogy which brings Yishi to a place of belonging. The EP's tracks therefore accompany this procession.
The first part opens up with a track of Hidden Element which is a start of a procession on its own. 'Unchained' is indeed a track which is continually building to a climax which is created by combining ambient landscapes and jazzed up sounds, which creates a vibe of both tension and spirituality; contradictive but true indeed. It is all about suspense, and once the drop is a fact, you will be immersed in what Yishi tends to be all about; wonder and the subliminal. Tightly crafted jungle breaks ooze over the deep soundscape which was just created, and the track even then keeps on developing itself, making the journey not for one second the same.
Our much respected long time artist Double O takes over second, and brings with 'Late Night Something' what he does best: create dark, truly urban canvasses of mysterious sounds and combine these with his unsurpassed skill of crafting jungle breaks. Once again with a melodic rasta touch added to its color (making the track slightly reminiscent of his earlier EPA work 'Stop Dem Jah'), Double O creates an energetic dancefloor stepper which at the same time holds the mystery and unease that the Yishi series want to create.
New to the area is Zebedee, whose first entry on the EPA label and entry for Yishi continues in the recently initiated rasta vibes of Double O. In 'Praise You Jah' beautiful pads and soothing brass are accompanied by the MC's sounds preparing you for another jungle stepper where raw amens and dub sirens keep you moving while the spiritual sounds continue the earlier vibe. As 'Unchained', the track keeps on progressing to new stages all the time, and is aiming at perpetuating the sublime and immediate nature which is central to Yishi.
Procession concludes with another new artist under the label, which is Paluca. This man is certainly not new to today's drum and bass scene, and was therefore recognized as the right man for the last track. As if the procession ends in stormy weather after the previous soothing sounds, 'Dim Reflection' still echoes the rasta vibe of 'Late Night Something', but gives a more creepy edge where heavily reverberated stabs create a haunting atmosphere of grey and bleak visions. Its merciless jungle breaks and meticulous groove keeps the energy rolling at its peak, ending the procession in a minor but heavy mood.
Where the next part of Yishi will pick up is thus yet unknown, but will be known not too far away in the future. Keep your eyes peeled!
EPA13 Yishi : Procession
Tracks:
1 Hidden Element – Unchained
2 Double O – Late Night Something
3 Zebedee – Praise You Jah
4 Paluca – Dim Reflection

Release Date: November 2015 (available later on Juno and Digital-Tunes)
Format: wave, flac, alac, aac, ogg, mp3 and more
Written & Produced by: I.Kirilenko & N.Tarasov, D.Henry, L.Platten, A.Stepanov
Artwork: R. Peperkamp
Mastering: T. Van Zeytveld
FROM THE ROCKY MOUNTAINS TO THE HIMALAYA: THE WEST MEETS THE EAST AGAIN.
Eastern Promise Audio has decided to linger on in the States after the Pattern Hoax EP which centered around martianMan and Greenleaf, to present two more rising stars enriching the EPA sound going under the name of Goreteks. These guys from Denver, Colorado have already proven through various recent releases their skills, and were not hesitant to take up the task of putting down the Eastern Promise vibe.
Although the summer days are kicking off, Eastern Promise takes you to the heights of snowy mountains to reach a higher level in your mind. Whether it is in the Rockies or the mountains of Tibet, Goreteks displays on the 12th release of Eastern Promise Audio that both share an aura of mystic, dark sounds that almost makes you feel the cold mountain wind cut in your skin. Therefore, it's time to ease this cold and meditate with the sounds of 'Tibetan' and 'Canister'.
Starting with the A-side, 'Tibetan' opens with an empty feeling of mist and desolation, as if one is alone up at a great height and no point of reference is to be seen. Mysterious flute and koto sounds then start to play enchanting melodies to calm these restless feelings down, and uplifting short but hard striking taiko drums perpetuate this spiritual feeling until firm jungle breaks start to roll and deep subs roll down these heights. This clash of a harsh environment up in the clouds and deep meditation therefore form the basis of this track; bringing unity of both.
The B-side intensifies this feeling, although 'Canister' signals from the beginning that the weather has taken a turn for the worse, and darkness has replaced the light that was just still felt. Hard hitting breaks and dissonant pads reflect this turn, while oriental percussion sounds still continue the sound of the spiritual. Deep bass stabs and drones accompany these, while the wind keeps intensifying and wheezing flutes personify this feeling. Indeed, 'Canister' tells us in the end that the dark is simply and ally of the light and one can never go without the other. This is a pillar of the Eastern Promise Audio philosophy, and therefore you're wholeheartedly invited to take this ride.
EPA12
Artists: Goreteks
Tracks:
A – Tibetan
B – Canister

Release Date: July, 2015 (available later on Juno and Digital-Tunes)
Format: wave, flac, alac, aac, ogg, mp3 and more
Written & Produced by: T. Strode, T, Schroder
Mastering: T. Van Zeytveld
Artwork: R. Peperkamp
WHAT'S TRULY REAL IS WHAT YOU BELIEVE TO BE REAL. BELIEVE THE PATTERN HOAX.
As spring dawns, and it always seems mysterious how our whole earth springs to life again just like that, Eastern Promise Audio is back with a Maxi EP full of mysterious dreams which can't be easily classified as either good or bad. What will be certain is that it will leave you with wonder and energy. EPA's 11th release proudly presents the sounds of martianMan and Greenleaf with sounds certified to its high standards to make you wonder… are the patterns you see just a hoax?
Pure junglists among us need no introduction from upcoming drum 'n bass producers martianMan and Greenleaf, but in case you did have a long and busy winter, these two producers hailing from Texas and New Orleans in the States already have a noteworthy list of releases under their belts. Their beginnings on Eastern Promise Audio therefore had to be guaranteed to continue their ever rising degree of quality, and now the time is right. The Pattern Hoax Maxi EP consists of no more than 6 storming tracks including an exclusive remix by longtime EPA resident and undeniable London king of breaks Double O.
To get as properly in the mood as possible, Greenleaf opens EPA11 with 'Doughnuts', where visions of space are enacted by mysterious pads and warps, while twisting jungle breaks pick you up on the ride. A seemingly jungle ride floating on is suddenly interrupted by a sound of coldness, and soon heavy industrial warps set one into hyper speed as amens heavy as lead propel you into the void. Warning: contains some swearing. And remember, this is just a warm up.
martianMan then takes over with three takes on which is already a drum 'n bass classic, entitled 'Saddle Up'. The most delicious breakbeats and dub sounds pick you right up in the mood as oldschool Digital & Spirit type of stabs start delivering some heavy blows to the stomach. The first and original version is what it should be; raw, for the floor, and delicately twisted. The 'Pad Version' following is a bit of a more light and mysterious take on the original, and minus the stabs from the original it has the funky beat but with a delicate atmosphere which wasn't that obvious in the original. Greenleaf then already takes over again with his remix, where he lets his break magic work to the max to get a drumfunk twist on the original going with no end. Its atmosphere floats perfectly between the previous 2 mixes and is just as essential.
After the 'Saddle Up' madness, Greenleaf's Dark Visions which was released last year (Omni Music) gets the special Double O treatment brought to you by EPA. Expect no less than some of the most haunting and dark dreaming sounds with drumworks which can only be labeled as Double O certified. Reminding very much of the sounds of the Why Are We Here? EP (EPA02), Double O is back and as always delivers.
For the outro, Greenleaf takes us on an unusual jazzy journey through deep space where all connection with our base seems lost and the laws and patterns we live by everyday lost all meaning. 'Micro' is set to take you to a world like this, and after all the carnage of this maxi EP leave you off where it started, in a world of mystery and doubt of what's really real. That's for you to decide.
EPA11
Artists: martianMan, Greenleaf
Tracks:
1 Greenleaf – Doughnuts
2 martianMan – Saddle Up (Original)
3 martianMan – Saddle Up (Pad Version)
4 martianMan – Saddle Up (Greenleaf Remix)
5 Greenleaf – Dark Visions (Double O Remix)
6 Greenleaf – Micro

Release Date: March, 2015 (available later on Juno and Digital-Tunes)
Format: wave, flac, alac, aac, ogg, mp3 and more
Written & Produced/Remixed by: D. Yates, G. Greenleaf & D. Henry
Mastering: T. Van Zeytveld
Artwork: R. Peperkamp
A side: Dam Nation – Mescaline
Audio clip: Adobe Flash Player (version 9 or above) is required to play this audio clip. Download the latest version here. You also need to have JavaScript enabled in your browser.
" EPA's first release (EPA01) will feature the Dam Nation tracks Mescaline on the A-side, and Under Dementia on the flip. The Dam Nation production crew consists of no less than five members, including Phuture-T, Splinter, Logikz, Reactor Grits, and Drome.
The first track is, as the name suggests, an epic trip which can be neither described as either light or dark, as it ambiguously encompasses both; through many stages expressed through classic jungle breaks and deep soaring basslines, the songs progress in a spiritual way through classic gamelan sounds, whispers and soundscapes which are unpredictable and mysterious.
As a heavy trip can be essentially indescribable through words, Dam Nation crew has tried doing it through sound, that must be heard to convince. "
B side: Dam Nation – Under Dementia
Audio clip: Adobe Flash Player (version 9 or above) is required to play this audio clip. Download the latest version here. You also need to have JavaScript enabled in your browser.
" They continue their dark ride through the B-side with Under Dementia; more minimal but equally complex in drum patterning, the song opens with traditional Japanese vocals, subtle percussion and mysterious horn sounds, where a soundscape gradually starts opening up to draw the listener into its atmosphere. Once the bass stabs for the first time, the tune falls into its heavy form and reveals its skin of dazzling sounds which fill the audio spectrum and keep on coming out of unexpected corners. Again it makes no difference between a pure light and dark side (although it's leaning to the latter), and even though less divided into stages then a trip in Mescaline, it is just as epic, dark, and mysterious. "
Read More and buy this release
Eastern Promise Audio Promo Mix by Phuture-T:
A new and fresh drum & bass mixtape with many dubplates,
all scheduled to be released on Eastern Promise Audio.
This mix features an exclusive selection of tracks by Amsterdam based Dam Nation kru.
Their first single "Mescaline" is now available for download in all good download stores.
More badness in the mix by Infest, Morphy and Double O with his "Why Are We Here" EP,
which will be released in november on Eastern Promise Audio!
Mixed by the one and only Phuture-T.
Big up to Robbert Peperkamp for the artwork.
Download links:
Direct Download (Right click, save as)
Always wanted to know more about our label Eastern Promise Audio and Amsterdam based Dam Nation kru?
Check out: Everyday Junglist for an in-depth interview! Big up to Fonik at Everyday Junglist.
After introducing itself with the sounds of Dam Nation, digital drum 'n bass label Eastern Promise Audio is set for a very special second release; an EP featuring the sounds of London-based dnb pioneer Double O.
Already being played out by numerous DJ's worldwide, this release has been anticipated for a long time and will perpetuate EPA's quest for bringing dark and atmospheric drum 'n bass that refreshes both the ears and soul.
Double O has been rising on the scene as one of the most promising artists in the world of drum 'n bass today, bringing the more jungle-oriented rhythms which he combines with both dark ambiance and dub-oriented vibes.
Besides releasing on various labels since the early jungle days, he and his Rupture crew have been doing their own radio show together with DJ/producer Mantra on Jungletrain, and have thrown down their own raves for the last five years in central London where the dark side of the jungle still can be found.
After EPA got introduced to his sounds, it has been awaiting to release the Why Are We Here? EP for years until it was ready to launch, and is proud to now finally do so.
The Tracks:
" All four tracks included in the EP conform to EPA's sound of epic, atmospheric drum 'n bass. The A-side and title track of the EP 'Why Are We Here?' opens up with cold jungle rhythms quickly sliding into mysterious soundscapes that evoke an icy dream state, before colliding into a dark but beautiful ride accompanied by mashing amens and deep subs. This is followed by a deep dub-influenced jungle roller on the flip side called Version From Creation, which combines the former style with industrial sounds and pads against a heavy drum 'n bass collision. "
A Why Are We Here?
Audio clip: Adobe Flash Player (version 9 or above) is required to play this audio clip. Download the latest version here. You also need to have JavaScript enabled in your browser.
B Version From Creation
Audio clip: Adobe Flash Player (version 9 or above) is required to play this audio clip. Download the latest version here. You also need to have JavaScript enabled in your browser.
"Moving on to the second plate, Drani's Horror ain't nothing too short of being what it says on the tin; opening up in an atmosphere of dark sounds and fearful whispering, jungle breaks soon pull up the cart to the point of departure where a madness is portrayed further through a heavy drumfunk sound and rumbling bassline that keep on morphing further into a dark void. After this chiller, the EP concludes with Stop Dem Jah, where Double O's reggae influences pulls you a bit more towards the surface of the light again. That being said, this track has by no means been freed yet of the cold ride that the EP has told so far, and concludes it in ambiguity with raw jungle breaks, hovering sounds, and hard-hitting dub stabs. All in all, we hope that this release certainly won't be the last that Double O has to offer on EPA, and that it will show you what this man is about."
C Drani's Horror
Audio clip: Adobe Flash Player (version 9 or above) is required to play this audio clip. Download the latest version here. You also need to have JavaScript enabled in your browser.
D Stop Dem Jah
Audio clip: Adobe Flash Player (version 9 or above) is required to play this audio clip. Download the latest version here. You also need to have JavaScript enabled in your browser.
Eastern Promise Audio EPA02 is now for sale online from our own website, Bandcamp, Juno Download, Digital-Tunes, and Chemical Records.
EPA02: ' Why Are We Here? ' EP
Artist: Double O
Release Date: 30-11-2011
Format: mp3 and wave
Check out your preferable download store store below to bag this baby!
Be sure to follow us on facebook and twitter to hear about future releases.
EASTERN PROMISE BRINGS MORE HAUNTING MYSTERY FROM THE DAM NATION CREW
Eastern Promise Audio is assiduously continuing its quest with the third release of their brand, which will bring more of the sounds of the Dam Nation crew, who brought the label´s first release.
This time the crew brings an ambiance blended of horror and mystery, together with their unique brand of breaks to full potential with EPA03, featuring the tracks Dante´s Theorem and Effigy.
" The 5-headed production force opens EPA03 on the A-side with Dante´s Theorem, which indeed was inspired by his writings from the Divine Comedy.
The artists tried to translate the book´s atmosphere, resulting in a both light and dark sounds surrounded by mystery; opening up with icy pads and percussion,
the tune slowly progresses into a firm dance floor stepper with deep bass stabs while retaining its hellish atmosphere.
As with most of Dam Nation´s tunes, it keeps on progressing as if telling a story, like in Dante´s spiritual journey.
Switching between layers of serenity and sudden horror, this track draws sharp contrasts and tries to bring a different structure to pay homage to both Dante and Russian director Tarkovsky."
" EPA´s third release stays in a spiritual realm when it continues on the B-side with Effigy. It seemingly presents a soft atmosphere full of subtle percussion and raindrops,
but already from the onset of the drums tells that this trip is also not going to be as light as previously felt.
It tries to symbolize both the fear and peace that depictions of death bring in its sound by bringing no rigid definition of light or dark;
They are brought together in harmony to demonstrate a serenity that is neither happy nor sad.
Both tribal percussion and vocals accompany the sound to emphasize this experience, whilst heavy subs roll over a blend of drumfunk and oldschool jungle breaks."
Eastern Promise Audio EPA03 is for sale on Bandcamp, Juno Download, Digital-Tunes, and Chemical Records.
EPA03: A: Dante's Theorem, B: Effigy
Artist: Dam Nation
Release Date: 30-01-2012
Format: mp3 and wave
Check out your preferable download store store below to bag this baby!
Be sure to follow us on facebook and twitter to hear about future releases.
Eastern Promise Audio is proud to present its fourth release featuring the sounds of upcoming and superb Dutch producer Infest,
who has proven himself already for some time to be a new main force in the drum 'n bass scene.
For EPA however, he has created two very atmospheric and subliminal works which fit the label's profile of mystery, darkness, and beauty.
Being already played widely by DJ's for some time now, EPA04 has been anticipated for a long time.
" Infest starts his quest of bringing the EPA sound on the A-side with Angoona, which breathes nothing but an array of beauty and wonder through shining pads and saxophones tearing to set the mood. Heavy artillery however accompanies this theme when heavy amen breaks guaranteeing a mad ride which both show this song to be intelligent and dark at the same time. No matter how this song will be viewed, it shall reveal itself both as a firm dancefloor stepper and spiritual caressing for the ears."
" The intelligent mood subsides for quite a bit on the B-side, where oozing, windy synths introduce a much darker landscape which prepares for a storm. Mindless is indeed a unique blend of eerie, mysterious sounds against a background of raw drumfunk and rolling basses that will press on your stomach for quite a bit. The sun which still seemed present on the flipside is gone, and now darkness surrounds the final installment of Infest's introduction on the EPA label, which is however making
sure he goes out as he came in; with a blast."
Eastern Promise Audio EPA04 is for sale online from Bandcamp, Juno Download, Digital-Tunes, and Chemical Records.
EPA04: A: Angoona, B: Mindless
Artist: Infest
Release Date: 31-03-2012
Format: mp3 and wave
Check out your preferable download store store below to bag this baby!
Be sure to follow us on facebook and twitter to hear about future releases.
EASTERN PROMISE AUDIO WELCOMES BABYLON FALLING BY ACID LAB
Eastern Promise Audio comes through with yet another EP, this time bringing the sounds of the already well known German drum 'n bass producer Acid Lab, who has already established himself with a number of noteworthy releases on various labels. For his debut EP 'Babylon Falling' on the EPA brand, three of his tracks encapsulating the label's sound perfectly were crafted to start up the ride, with a storming remix by Phuture-T of one of the tracks to finish it off.
As was shown on Double O's 'Why Are We Here?' EP (EPA02), reggae vibes and dark drum 'n bass sounds can mix flawlessly. Acid Lab shows once again that this sound can be maintained on the latest EPA release, where a minimal but hard hitting jungle sound was chosen to blend with dark dub vibes and ambient, mysterious sound schemes. The result is a 4-track EP which fits right in the expanding Eastern Promise catalogue.
The A-side is entitled 'Babylon', where a steady break and chirping birds make it a rather uplifting start of the EP when ambient pads start to rise and chanting vocals seem to bring Jamaican heat into your ears, until the breakdown bring a sudden drop with dissonant stabs and a deep bassline that is accompanied by grinding amens. Entrancing pads keep rolling under the spectacle to make it define the theme of this EP.
The B-side 'Jah' is a masterclass session in the power of hard hitting hoover leads and modest but smashing basslines effortlessly blending with a wild texture of amen and mule breaks. Dissonant strings interchange the sections of the track with cold winds and dub effects as it is signaling the upcoming winter. As the tune carries on, the chilling sounds will make you shiver just as much as the drum 'n bass vibe will move you.
Finally, the last two tracks go hand in hand, as the C-track 'Retribution' is accompanied by its own remix on the D-side. The former opens with deep hitting drum stabs and pads resembling a cold wind as in the previous track, while dubbed drum effects and rolling breaks work towards a quite sudden breakdown of mashing breaks and gnarling, creepy bass sounds. Its stepping vibe however, makes it modest but raw hitting nonetheless. Phuture-T's take on this track finally, keeps up the vibe of the original in terms of atmosphere, but adds more desolating sounds to the palette and brings an all-out jungle ode to the mule break which can be only described as merciless. It can be safely mentioned that it is a thundering conclusion to an EP for accompanying the cold days that lie ahead of us.
EPA08: Babylon Falling EP
Artist: Acid Lab
Tracks:
A: Acid Lab – Babylon
B: Acid Lab – Jah
C: Acid Lab – Retribution
D: Acid Lab – Retribution (Phuture-T Remix)
Release Date: September 9th, 2013
Format: wave, aac, flac, alac, ogg and more
Mastering: Macc
Artwork: R. Peperkamp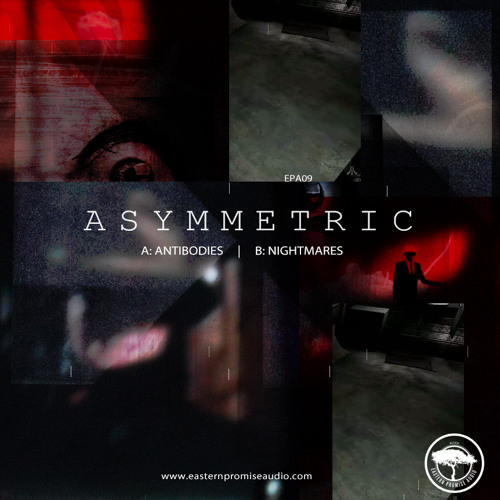 EASTERN PROMISE DREAMS DARKLY WHEN MEETING ASYMMETRIC
The ninth release of Eastern Promise Audio travels to the northeast this time, where it meets Asymmetric with two haunting tracks of mystery, industrialism, and blood chilling sounds. Indeed, this mid-winter release brings the coldness when this Russian artist debuts with the single Antibodies and the VIP mix of Nightmares, two tracks of sharp-edged drumfunk madness and evil soundscapes, proving his asset to the label.
Asymmetric has already released his debut album two years ago plus various singles, and requires no introduction to the underground lovers of dark jungle. It therefore only seemed a matter of time before the mutual vision between him and Eastern Promise Audio of drum 'n bass music connected, and resulted in a single of uttermost drumfunk and modern jungle finesse, albeit by mood and atmosphere not targeted for the faint-hearted. This single was made for the mid-winter moment, for this date of release, and is an aural interpretation of science and dreams gone haywire.
The A-side track Antibodies opens with a fading soundscape, like something is waking up in a strange place. Deep bass stabs then enforce this eerie vibe and set the tone for the single's atmosphere, when out of nowhere a storm of crazy drumfunk rhythms, which are morphing and switching endlessly, twitching if you like, start to support the stabs and bring the track to its onset. The break works seem to embody a crazy chase through a dark and unknown landscape, which is supported by evolving mysterious pads and dissonant piano chords. The chase seems slowed down by both the bass stabs and heavy atmosphere, as if they're pressuring it; it creates an effect which could embody a battle between antibodies and antigens. Of course, this is only a scientific interpretation of the track, and those that open their ears to it know that there is a lot more to envision that could embody the sound.
Things are taken into a new direction on the B-side with the VIP mix of Nightmares, where high passed amen breaks start to ooze and morph in under support of soundscapes both expressing glares of light, but overall are hinting at places of cold and evil. This pattern starts to narrate itself slowly when the breaks fully hit in a full jungle tour de force of oozing breaks and lukewarm falling bass works where suspense is felt through the whole ride; it is leading to a climax of what the track itself holds by its name and has to be heard, better yet felt, to justify itself. As a passage through the underworld, the perceived anguish seems without end, when the track unexpectedly plunges its listener back in its jungle fashion where the sound keeps on evolving in its breaks and soundscape, bringing the listener slowly and, hopefully, safely back to the real world where the immersion of the nightmare felt will sure be lingering for an uncertain amount of time to come.
EPA09
Artist: Asymmetric
Tracks:
A: Antibodies
B: Nightmares VIP
Release Date: March 2nd, 2014
Format: wave, flac, alac, aac, ogg and more
Mastering: T. Van Zeytveld
Artwork: R. Peperkamp
In this early summer of 2014 Eastern Promise Audio celebrates, as their 10th release is a fact. A challenge for the label to come up with a release noteworthy of its number and by staying in line with the quality of the former nine releases as well. After a long time and many considerations, the jungle kings Phuture-T and Double O were chosen to share the space on the 'Turbulence EP', which can safely be described as a landmark for the label which both reflects the last three years of Eastern Promise Audio and assures its future, kicking like a mule.
Both Phuture-T and Double O need no introduction to the label, as well as to drum 'n bass in general. Double O helped shape Eastern Promise Audio's sound in its early days with the now legendary 'Why are we here? EP' and is currently expanding his skills and tastes through his own amazing Rupture label. Phuture-T, as both a member of Dam Nation and having done several remixes on EPA from both Rumbleton and Acid_Lab, is no newbie to them as well, and has expanded his list of releases recently through labels such as Alphacut Records. For EPA's 10th release, both the dark and dubby flavored releases from the label were taken as a starting point, to ultimately take it to a crucial point of dreamy, sinister atmospheres and some raw, menacing jungle as shown before.
The opening track is by no means a track meant for warming up towards the rest; Turbulence by Phuture-T is an extreme example of taking the simple ingredients of drum and bass and expressing nothing but havoc. Pizzicato strings play a haunting repeating melody whilst detuned pads resembling flight sounds are warning that you have taken off and the flight is going to be all but comfortable. Being underlined when a hard as nails hitting break determines the initial sound, the track moves towards its center point of darkness when a sudden rolling sub actually simulates a raw, turbulent feeling in one's gut meant to do what it does best; shake you down as hard as possible. Phuture-T is in the cockpit, making you having a not too pleasant but unforgettable flight.
Things get seemingly toned down afterwards for the time being, where Phuture-T after the landing brings you Worlds Awakening; oozing, mysterious pads envision a world of wonder and novelty, but soon fading in raw breaks and deep subs quickly remind you that the atmosphere of the previous flight is still present. Accompanied by fierce ravey stabs, a refined blend of drumfunk trickery with breaks fighting a constant battle of contrasting, mirroring, and blending enrolls where dark leads growl and roll around the spectrum.
Double O then picks up the pace from the last track with his own remix from World Awakening, which is nothing short of a jungle masterpiece as the pure junglists knows him. Giving a slightly more dark twist to the track, his awakening certainly has a gloomier feeling, but gives a breaks tour de force which could raise an eyebrow of even the more hardcore jungle heads around.
The EP concludes with Phuture-T remixing a storming track from Double O, where reggae legend I-Roy helps you pick up the pace of a fine mix between dubwise sounds, thumping breakworks and deep rolling basslines, cooperating in a hypnotizing fashion which is only broken by some raw mashing amen interims to bring a gradual change of pace to the initial groove. By this point it will have become clear that the tone set from the start of the EP is being kept up both skillful and mercilessly.
And if this wasn't all enough, a bonus track of the 'Warrior VIP mix' from the Phuture-T remix of 'Iroy Lion' will be obtainable on Bandcamp only when purchasing the whole EP. This mix gives the last tune a fresh rewind with a raw twist daring you to make some more moves; that is if you didn't get enough stampede already. It's up to you now to find out; in the meantime, EPA shall roll on towards new ventures…
Eastern Promise Audio EPA10 is for sale online from Bandcamp exclusively. Digital-Tunes and Juno Download will follow in a few months.
EPA10
Artists: Phuture-T, Double O
Tracks:
A: Turbulence
B: World Awakening
C: World Awakening (Double O Remix)
D: Iroy Lion (Phuture-T Remix)
E: Iroy Lion (Phuture-T Warrior VIP) (Bandcamp X-clusive)

Release Date: May 31st, 2014 (available later on Juno & Digital-Tunes)
Format: wave, flac, alac, aac, ogg, mp3 and more
Mastering: T. Van Zeytveld
Artwork: R. Peperkamp
Jungle Syndicate Bristol 3rd of October 2015 @ Black Swan, Bristol UK
Main Room Powered By Neverlution Drum and Bass / Jungle / Breakcore
Stranjah (DSCI4 / Renegade Hardware)
Indidjinous and Centaspike (Subtle Audio / Barcode)
Phuture-T (Eastern Promise Audio / Syncopathic)
Andy Skopes (Utopia / Jungle Syndicate)
Smyla (Mute:8 / Junge Syndicate)
IJO (Blikmuzik / Jungle Syndicate)
wAgAwAgA (Acroplane / Jungle Syndicate)
Osh Kosh (Jigsore / Hibiki)
Raggamuffin (Jungle Syndicate)
Doomham (Jungle Syndicate)
Upstairs Room Powered by Neverlution Drum and Bass / Breakcore / Crossbreed
DJ Hidden (Ad Noiseam / PRSPCT)
Broken Note (Ad Noiseam / PRSPCT)
SA†AN (Peace Off / Murder Channel)
Stazma The Junglechrist (Peace Off / Murder Channel)
DJIPE (Peace Off / Deathchant) Squif (Jungle Syndicate) Sketch (Jungle Syndicate)