News
PAPA SHANTI & SOMAH BRING FORTH EASTERN PROMISE'S FIRST REMIX ALBUM

To wake you up for this new decade, Eastern Promise Audio returns with their first remix album, centered around a new jungle scorcher by Papa Shanti & Somah called Ear to the Ground. Next to the original it offers no less than 5 remixes by both newcomers and established EPA artists Earl Grey, Optimystic, Phuture-T, Pixl and Reactor Grits.

Being residents with the Unity Sessions sound system in North West England, Papa Shanti & Somah have teamed up to combine their razor sharp skills in dub and jungle to bring Eastern Promise a track which makes you feel the hot breeze of the Jamaican jungle over your skin while wild amen breaks dropkick you down to your center. Making you feel the summer in the heart of this winter, Ear to the Ground gives you the sounds of pure dub to the point of a highly meditative state along with wild jungle styles rolling from one break to the other.
Optimystic starts off with a firm drumfunk twist on the track, where Arabic sounds and growling bass stabs accompany the original vibe, ultimately culminating in a state of bliss without losing its firm grip. Earl Grey then takes over in a mind soothing jungle lick where one seems to drift further and further into an intense dream state with each passing minute, making for a calmer but also firm and sexy vibe. Reactor Grits then takes the track into the realm of modern jungle techno sounds where after some firm rave stabs and jungle mashup ultimately a big climax shall dictate its sound. Pixl takes the track into the depths of drumfunk science, twisting the breaks over the original serene sound with percussion drums to add a deep and funky groove. Finally, it is up to Phuture-T to close the curtain with a storm of funky mule breaks breaking your teeth, roaring bass works and the dub vibe of the original expanded into infinity.
Drawing to almost three quarters of an hour, Eastern Promise's first remix album not only provides you with both new and established talent it always aims to push, but also with the vibe of a track which keeps its edge strongly throughout listening. This is a trip celebrating dub and jungle's finest hour.
EPA18: Papa Shanti & Somah – Ear to the Ground EP
Tracks:
1 Original
2 Optimystic remix
3 Earl Grey remix
4 Reactor Grits remix
5 Pixl remix
6 Phuture-T remix

Release Date: January 2020
Artwork: R. Peperkamp
Mastering: T. Van Zeytveld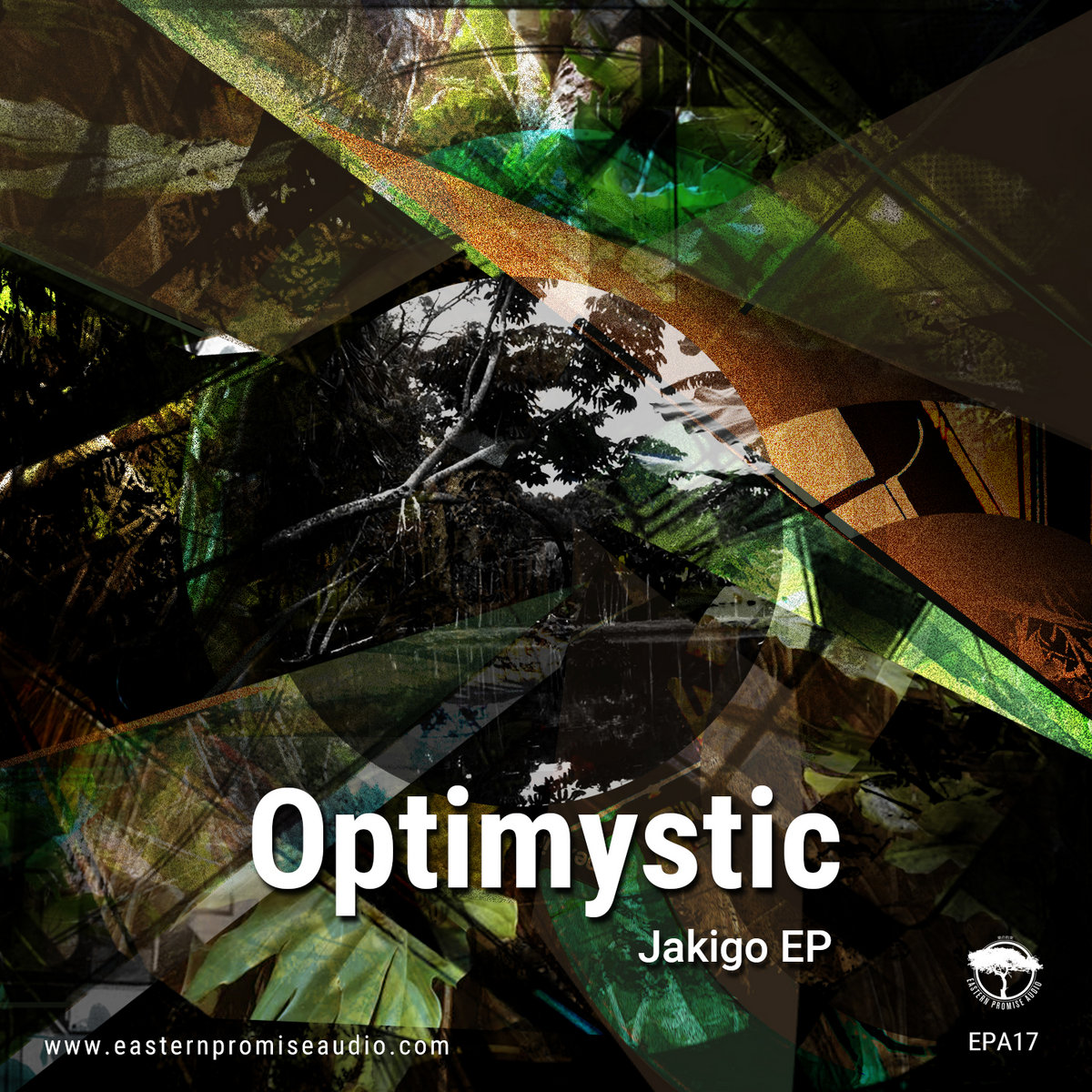 EASTERN PROMISE AUDIO BACK WITH OPTIMYSTIC

Eastern Promise Audio is finally back with a storming EP by the upcoming artist Optimystic to roll some dark mysticism into the heat of summer. His new Jakigo EP out on the label once again shows a new force into the Eastern Promise sound that doesn't skew innovation yet guarantees full dancefloor madness. A raw mix of full on jungle and jaw dropping atmospherics is the result that will set the tone for a new series of Eastern Promise releases for this year.

Bristol-based producer Optimystic has just started to conquer his space in the scene when Eastern Promise found it just to provide him a space for his compositions which can do nothing but give right to his name. Teaming up with featuring and recognized producers Ko and Relapse, he crafted the Jakigo EP to heights which do more than just to the now established catalogue of the label: a small but mind-blowing trip that from the start to finish takes you to space, dark forests and pagan rituals.
The first track 'Airlock' starts off where after many years travelling through the vacuum of space the decision is made to return to earth. An eerie and disturbing sweeping of pads predicts a feeling of alienation and darkness, where one finds itself far away from familiar surroundings and deep into nothingness. Soon firm jungle breaks set the tone to expand the look into the void, culminating in a deep drum 'n bass ride with rattling drum works and bass sounds of machinery and mechanics blended in a backdrop of bleakness.
'Watering Hole' sets you back to our planet, although a feeling of safety and security is yet to be found. A tribe set up camp by a lagoon, a camp fire burns, drums are beaten to fend off the beast that stalks them. Accompanied by classical but desolate sounds on one side and tribal percussion on another, repeating chants against the sounds of a warm and damp summer nights reminisce of dark rituals being conducted. Rolling apache breaks accompany the percussion and growling basses intensify the presence of a looming danger that seems to lurk around the corner during every moment in this track.
'Herald' takes you momentarily back to some more lush, atmospheric vibes where serene pads are heard and a saxophone plays jazzy melodies. But then deep in the forest branches creak, and leaves rustle, animated by a supernatural force. Basses start to ooze in and as a thunder crashing through a clear sky, rave vibes set on under firm jungle breaks which constantly intertwine. From there on the track plays a perfect middle field in being a pure drum 'n bass stepper while evoking a deep and spiritual feeling.
What began in space ends in an inhabited area where yet no sense of security is fully found. A village afflicted by drought summon a water spirit to bring the rains. Sounds of a ritual dance full of mystic percussion open up the track to summon, and if there is one track where you can hear a bright light it is 'Water Spirit'. When it comes, the full serenity that it brings is soon disturbed by deep and dark jungle breaks that bring, as Eastern Promise always tries to bring, no good or evil but perfect harmony between the two. The Jakigo EP concludes in a state of perfect balance, in the bright light which ultimately remains ambiguous. What that really holds is for you to decide.
EPA17: Optimystic ft. Ko & relapse
Tracks:
1 Airlock
2 Watering Hole
3 Herald
4 Water Spirit

Release Date: June 2019
Written & produced by: Jack Jariwala, Keira Cheung and Gordon Apps
Artwork: R. Peperkamp
Mastering: T. Van Zeytveld
Format: wave, flac, mp3 and more
Jungle Syndicate Bristol 3rd of October 2015 @ Black Swan, Bristol UK
Main Room Powered By Neverlution Drum and Bass / Jungle / Breakcore
Stranjah (DSCI4 / Renegade Hardware)
Indidjinous and Centaspike (Subtle Audio / Barcode)
Phuture-T (Eastern Promise Audio / Syncopathic)
Andy Skopes (Utopia / Jungle Syndicate)
Smyla (Mute:8 / Junge Syndicate)
IJO (Blikmuzik / Jungle Syndicate)
wAgAwAgA (Acroplane / Jungle Syndicate)
Osh Kosh (Jigsore / Hibiki)
Raggamuffin (Jungle Syndicate)
Doomham (Jungle Syndicate)
Upstairs Room Powered by Neverlution Drum and Bass / Breakcore / Crossbreed
DJ Hidden (Ad Noiseam / PRSPCT)
Broken Note (Ad Noiseam / PRSPCT)
SA†AN (Peace Off / Murder Channel)
Stazma The Junglechrist (Peace Off / Murder Channel)
DJIPE (Peace Off / Deathchant) Squif (Jungle Syndicate) Sketch (Jungle Syndicate)

Room One – Drum & Bass, Jungle
Spirit
Fracture & Neptune
Dj Stretch
Gremlinz
Mantra & Djinn
Phuture-T
Daat
Zebedee
MC Blackeye
Room 2 – Hosted by Beautifully crafted jungle kru
Fierce (95-96 set)
Double O
Treshold
Law
Son Of Monthra
Charlie Turbo
Dj Realer
Mpathy
Maph
Ill Tempa
Friday 10th April
Corsica Studios, London

Deep electronic label Sector 12/12 take their first foray into drum and bass with two power house tracks that take inspiration firmly from the nineties.
Gremlinz (Cylon/Paradox Music) delivers a previously unreleased remix of Greenleafs "Only You" (a track that originally appeared on now defunct blog Two Hungry Ghosts) extending its intro and injecting more bass to create a perfect 1993 Good Looking/Photek style tribute.
Phuture-T (Eastern Promise Audio) provides a classic drumfunk workout with immaculately crafted drum edits, distorted bass and sinister stabs that result in a fully immersive and malevolent environment.
credits
released 02 November 2014
Only You Written By Greenleaf and Remixed by Gremlinz.
Do The Daily Funky Drummer Flex Written By Phuture-T.
Mastered by Macc at Subvert Central Mastering.
Subtle Audio Vol III on 2×12″ and 3xCD available right now!! Only from the Subtle Audio website.
Subtle Audio Shop