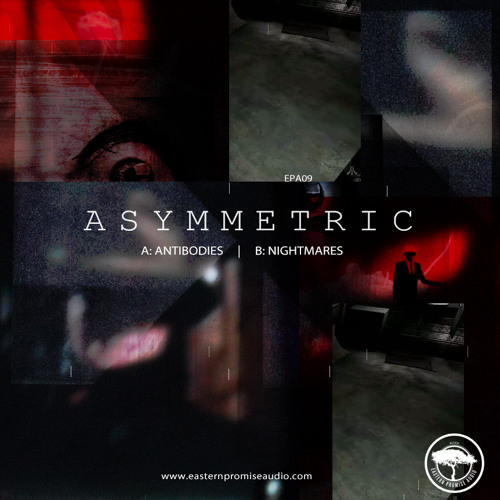 EASTERN PROMISE DREAMS DARKLY WHEN MEETING ASYMMETRIC
The ninth release of Eastern Promise Audio travels to the northeast this time, where it meets Asymmetric with two haunting tracks of mystery, industrialism, and blood chilling sounds. Indeed, this mid-winter release brings the coldness when this Russian artist debuts with the single Antibodies and the VIP mix of Nightmares, two tracks of sharp-edged drumfunk madness and evil soundscapes, proving his asset to the label.
Asymmetric has already released his debut album two years ago plus various singles, and requires no introduction to the underground lovers of dark jungle. It therefore only seemed a matter of time before the mutual vision between him and Eastern Promise Audio of drum 'n bass music connected, and resulted in a single of uttermost drumfunk and modern jungle finesse, albeit by mood and atmosphere not targeted for the faint-hearted. This single was made for the mid-winter moment, for this date of release, and is an aural interpretation of science and dreams gone haywire.
The A-side track Antibodies opens with a fading soundscape, like something is waking up in a strange place. Deep bass stabs then enforce this eerie vibe and set the tone for the single's atmosphere, when out of nowhere a storm of crazy drumfunk rhythms, which are morphing and switching endlessly, twitching if you like, start to support the stabs and bring the track to its onset. The break works seem to embody a crazy chase through a dark and unknown landscape, which is supported by evolving mysterious pads and dissonant piano chords. The chase seems slowed down by both the bass stabs and heavy atmosphere, as if they're pressuring it; it creates an effect which could embody a battle between antibodies and antigens. Of course, this is only a scientific interpretation of the track, and those that open their ears to it know that there is a lot more to envision that could embody the sound.
Things are taken into a new direction on the B-side with the VIP mix of Nightmares, where high passed amen breaks start to ooze and morph in under support of soundscapes both expressing glares of light, but overall are hinting at places of cold and evil. This pattern starts to narrate itself slowly when the breaks fully hit in a full jungle tour de force of oozing breaks and lukewarm falling bass works where suspense is felt through the whole ride; it is leading to a climax of what the track itself holds by its name and has to be heard, better yet felt, to justify itself. As a passage through the underworld, the perceived anguish seems without end, when the track unexpectedly plunges its listener back in its jungle fashion where the sound keeps on evolving in its breaks and soundscape, bringing the listener slowly and, hopefully, safely back to the real world where the immersion of the nightmare felt will sure be lingering for an uncertain amount of time to come.
EPA09
Artist: Asymmetric
Tracks:
A: Antibodies
B: Nightmares VIP
Release Date: March 2nd, 2014
Format: wave, flac, alac, aac, ogg and more
Mastering: T. Van Zeytveld
Artwork: R. Peperkamp